Name:
Nuke Dodge - Ground Zeroes
Type:
Run, survival
Dimension:
64x64
Forces:
1 Civilians
Players:
6
Main Command Unit:
Civilian
Affinity:
Dodge the Nuke 1999 version
Description:
What do you do when you want to play a long lost map? You remake it! This map is
in most aspect emulative of the original Dodge the Nuke version. The gameplay can
be considered more fun than those "Junkyard dog" maps, since you are dodging
nuclear explosions instead. Since the enemy ghosts follow to nuke you, you are a walking
bomb. Use that ordeal to your advantage and make the comp nuke all the critters in the
map to win. The other feature allows for "last man standing" play where critters are
invincible and you must survive longer than everyone.
Features:
- Open-source [unprotected] map
- 2 Mode of Gameplay: Team and FFA
- Dead players get to backstab or nuke the team
- 3 Types of nuking method
- 48 Ghosts, 44 simutaneous nuclear launches possible
- Fake laser paint craftily placed in map
- Non-stop nuking
- Custom death sound/music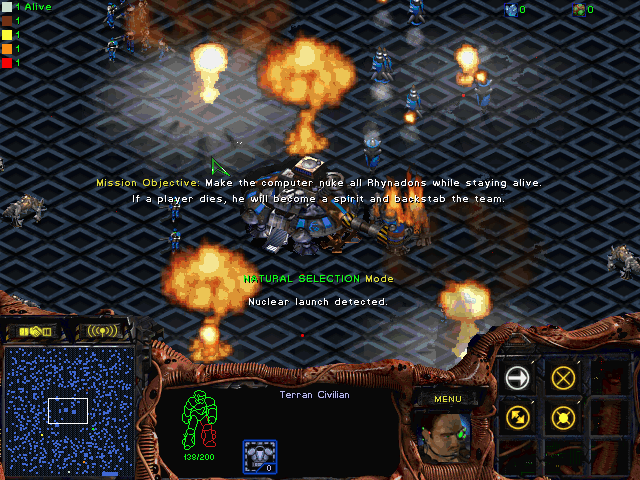 DOWNLOAD HERE
Build Nukes: "Expansion Terran Campaign Insane AI"
Target Nukes: "AI Nuke Here"
For those who want to play the true "nuke dodging", you'll love this!